At St George Electrolysis we understand the unwanted face and body hair can be problematic for men.
We are specialised in permanent hair removal for men. Electrolysis is just as effective on men, as it is on women. St George Electrolysis will have you looking the best, permanently.
Some men are not happy or just time-poor to put up with costly, time-consuming, temporary hair maintenance routines like waxing, shaving, tweezing and depilatory cream. Some men seek laser hair removal only to end up with laser-induced hair growth (laser hypertrichosis). This can cause loss of confidence and depression for some men.
Electrolysis can also be used to simply thin out hair on their face or body.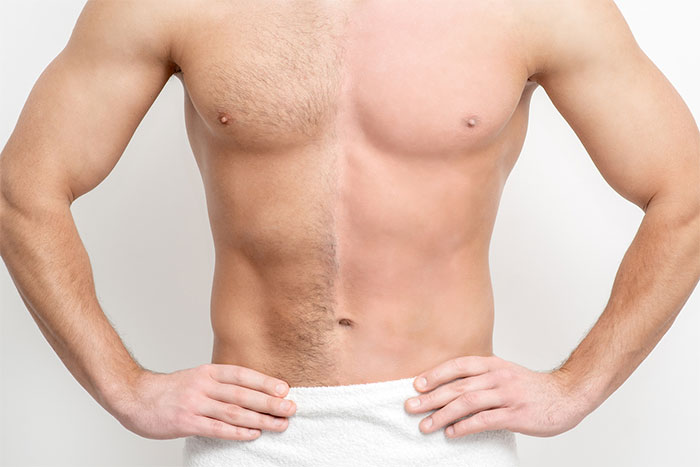 Main areas we treat on men
Eyebrows
Due to the precision of electrolysis, we are able to remove selected hairs, keeping the male eyebrows looking natural and not having a waxed, feminine look.
Ears and nose
As men age, ear and nose hair become increasingly coarse and longer. This hair can also develop on the outer edge of the ear.
Cheeks
Hairs on the upper cheek of a male can cause him to feel like he has a messy shadow. Permanently eliminating these hairs can resolve this feeling.
Beard sculpting
Shaping a beard or beard sculpting makes a neatly trimmed beard look exquisite. Some clients usually know how they want their beard sculpted and we can achieve it for them. Other clients are unsure how they want the beard line, this is where our artistic talents will be applied.
Complete removal of the beard is also possible with electrolysis. Distorted hair making shaving difficult or skin becoming irritated from shaving is the main reason for beard removal.
Nape
Excess hair on the nape can be permanently cleaned up. We are all about the natural look. We will maintain the natural neckline and permanently eliminate unnecessary hair.
Chest and abdomen
At St George Electrolysis, we can remove stray white hairs on the chest and abdomen or the entire area can be permanently cleared.
Some clients just want to enhance the appearance of the chest or abdomen by creating a better pattern which can be achieved with electrolysis.
Shoulders and back
Shoulder and back hair can be uncomfortable and embarrassing for a male and hard to maintain. We can permanently free you from embarrassment and the discomfort back hairs can cause permanently.
Arms
Some men want their upper arms to be hair free while leaving hair on the lower arm or thinned out. This can be achieved with electrolysis without having a sharp, defined line. At St George Electrolysis, we use a technique called feathering, creating a very natural, faded look.
Hands, fingers, feet and toes
Excess hair can sometimes grow on the hands and feet of men these can be thinned out or completely and permanently removed.
Legs
We can reduce the density of extremely hairy legs without leaving bare patches and keeping a normal appearance or completely removing the hair permanently.
Call Now for FREE Consultation